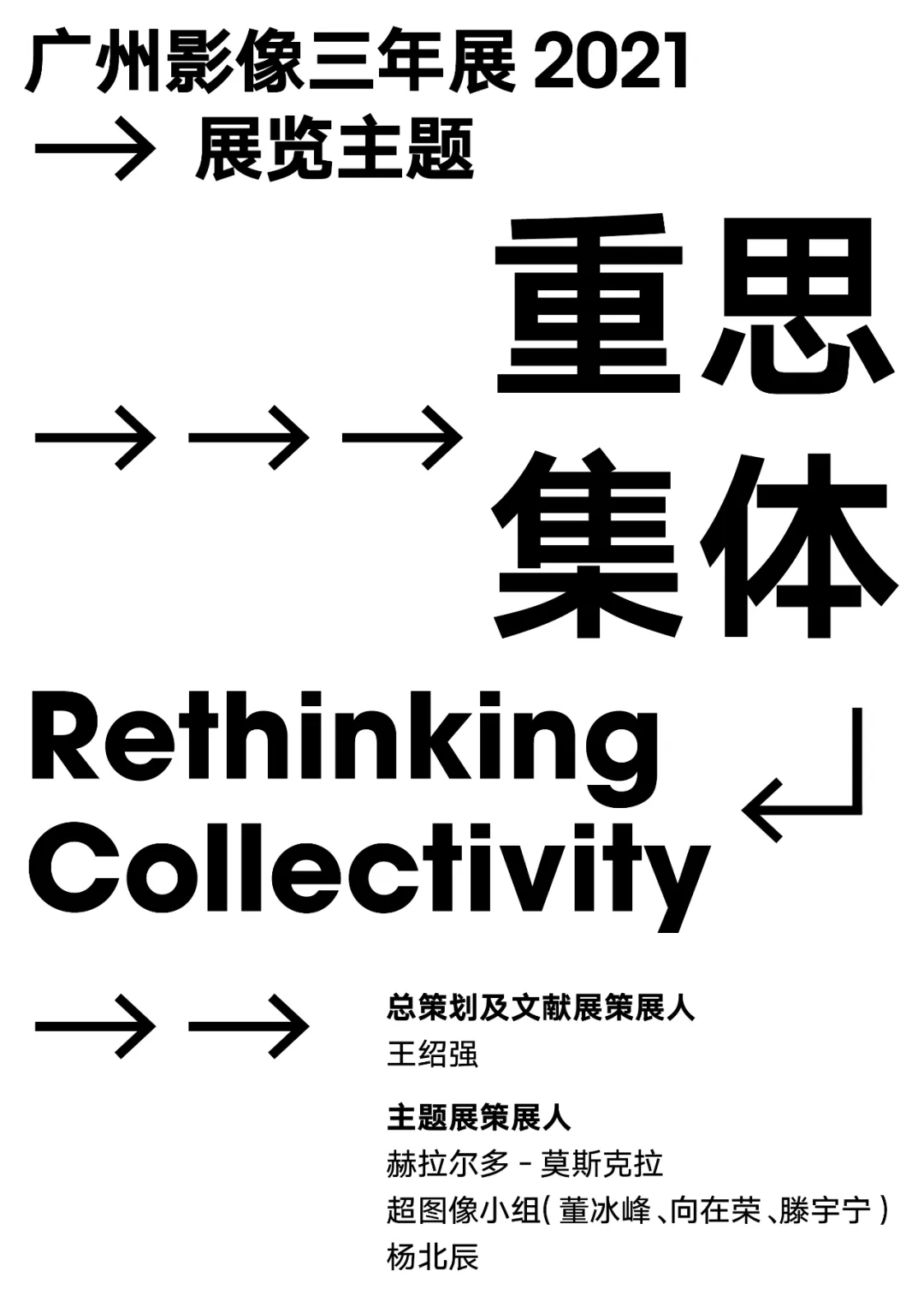 "广州影像三年展2021"确定展览的主题为:重思集体(Rethinking Collectivity)。展览由广东美术馆馆长王绍强担任展览总策划及文献展策展人,主题展由赫拉尔多-莫斯克拉(Gerardo Mosquera)、超图像小组(董冰峰、向在荣、滕宇宁)、杨北辰共同策划。
Guangzhou Image Triennial 2021 has chosen Rethinking Collectivity (重思集体)as the main theme. Wang Shaoqiang, Director of Guangdong Museum of Art, will be the chief director of the Triennial and the curator of the archive exhibition. The theme exhibition will be cocurated by Gerardo Mosquera, Hyperimage Group (Dong Bingfeng, Xiang Zairong, Teng Yuning), and Yang Beichen.


我们对世界的忧虑,也许从没有像今日这般紧迫。这种危机感一方面潜伏在长久以来人类社会的内在矛盾之中,以及技术的盲目发展与环境之间日益失调的平衡感里。另一方面,其又在新冠病毒大流行的恐慌中进一步加深,我们体尝着处于未知威胁中的无助感,以及持续性全球震荡所导致渐行渐远的隔绝与孤独。世界在这种不断蔓延的逆全球化离心力中陷入了更大的困局,文化和艺术实践亦同样焦灼于此。面对共同的未知,人类命运重新胶着一体,而同样,停顿的短暂真空也给了我们重新反思的空间——重思集体,不仅是在检阅历史,更是针对当下与未来更加广阔的共生可能的探讨。
"广州影像三年展2021"以"重思集体"为主题,正是在这样的时代背景下应运而生,展览试图通过影像艺术的独特语言,呈现出不同维度的思辨,与观众共同探究对于人类精神与命运的现实反思。
"集体"的概念经历了长期演变,在今天具有了更加宏观、整体的当代特质。在历史叙事中,集体曾代表一种记忆与身份的共同体,图像则在很长一段时间以来承担起了保存与重塑它的重任。而在当代语境里,集体拥有了复合和多维的表达,其被解读为一种现象的集合,一种术语,甚至是一系列发问/提问的方式。这些概念业已超出了人类中心主义视角。在展览中,我们将试图对此做出进一步的观察和探讨:基于全球景观的视角,集体是人与自然的联结,是在自然景观的痕迹中寻找到的人类价值的轨迹;同时,其亦被理解为一种关系性的、发生性的前沿组合,由自然、技术、话语、实践建构起的异质网络——"集体"成为了一种社会与自然、精神与物质、人与非人之间多维紧密的共存。而当下影像艺术丰富而包容的体系,对其也生发出多重表达的可能。此外,本届影像三年展也希望通过碰触这个时代特有的思辨思想,来讨论当代影像的新叙事。
"广州影像三年展2021"将由主题展与文献展组成,广东美术馆馆长王绍强担任本次影像三年展总策划及文献展策展人,主题展三个单元分别为超图像小组(董冰峰、向在荣、滕宇宁)策划的"我们,集体"、杨北辰策划的"前沿心智"及赫拉尔多-莫斯克拉(Gerardo Mosquera)策划的"全球景观"。主题展三个单元将在"重思集体"的视野和框架下彼此交织,尝试连通起过去、当下与未来,以及宏观与微观等诸多层面,在开放的对话与交流中,促发影像艺术的实践,以呈现我们向自身所处世界的反思和发问。
We have never been worried about the world as much as we do today. The feeling of crisis has been lurking beneath, on the one hand, the long-standing conflicts internal to humansociety, the blindly accelerating technological development, and the deteriorating environment. On the other hand, the panic over the Covid-19 pandemic has exacerbated such worries. We are suffering from a sense of helplessness while facing these unknown threats, as well as a stronger sense of isolation and loneliness facing the persistent global turmoil. The world has fallen into a greater predicament amid the anti-globalization processes. The cultural and artistic milieux likewise share the same worries. Facing an unknown future, the destiny of humankind is once again entwined with each other. Yet, the short vacuum of pause has also provided us room for reflection, for rethinking collectively. Rethinking collectivity is not only a review of history but, more importantly, an exploration of the wider possibilities of coexistence in the present and in the future.
Against such a historical background, Guangzhou Image Triennial 2021 with the theme "Rethinking Collectivity" aims to show different aspects of critical reflection enabled by the unique language of image-making and rethink humanity's destiny together with the participants.
The concept of "collectivity" has undergone a long-term evolution to the present with broaderand more holistic significations in modernity. In historical narratives, collectivity once represented a community of memory and identity, for which image assumed the responsibility of preservation and reconstruction for a longtime. In the contemporary context, collectivity has attained more complexity and multidimensionality, and has become synonym of a collection of phenomena, a term, and even ways of posing questions. These conceptualizations have gone beyond the anthropocentric perspective. In this exhibition, we will continue to observe and discuss these issues: from the perspective of the global landscape, collectivity is the connection between human and nature, and also the traced human behaviors that are found in the natural landscape. Meanwhile, it's also perceivedas a relational and happening frontier, and a heterogeneous network constructed by nature, technology, discourse and practice: collectivity has therefore become a multidimensional coexistence human society and nature, spirit and matter, as well as humans and non-humans. The rich and inclusive system of image art also enables the possibility of multiple expressions. Guangzhou Image Triennial 2021 also hopes to discuss the new narratives of contemporary image art by engaging with critical thoughts unique to our era.
Guangzhou Image Triennial 2021 consists of a theme exhibition and an archive exhibition. Wang Shaoqiang, Director of the Guangdong Museum of Art, will be the chief director of the Triennial and the curator of the archive exhibition. The theme exhibition consists of three parts: Why Collectivity? curated by the Hyperimage Group (Dong Bingfeng, Xiang Zairong, and Teng Yuning), Frontier Mentality curated by Yang Beichen, and Globalscape curated by Gerardo Mosquera. These three parts will be interwoven under the vision and framework of "Rethinking Collectivity" in an attempt to connect the past, the present and the future in macro and micro scales, in order to promote the practice of image art through open dialogues and exchanges. We will continue to reflect on the complex world we are living in.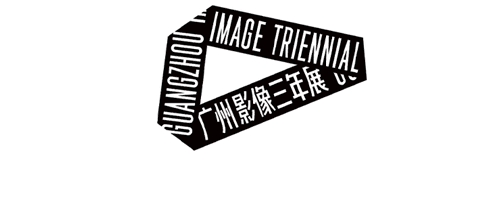 本届广州影像三年展将邀请来自全球数十位的艺术家、导演和学者参加,共同搭建作品展示、放映、学术论坛以及特定在地艺术项目,以粤港澳大湾区为区域背景,积极推动和建立全球学术研究及艺术交流的动态网络。项目更多信息将陆续公布,敬请关注。
Guangzhou Image Triennial 2021 will invite dozens of artists, film directors and scholars from all over the world to participate in the exhibition, screenings, academic forums and location-specific art projects. Based in Guangdong-Hong Kong-Macao Greater Bay Area, we hope to make vigorous efforts to establish and promote a dynamic network of global academic research and artistic exchanges. More information about the Guangzhou Image Triennial 2021 will come soon.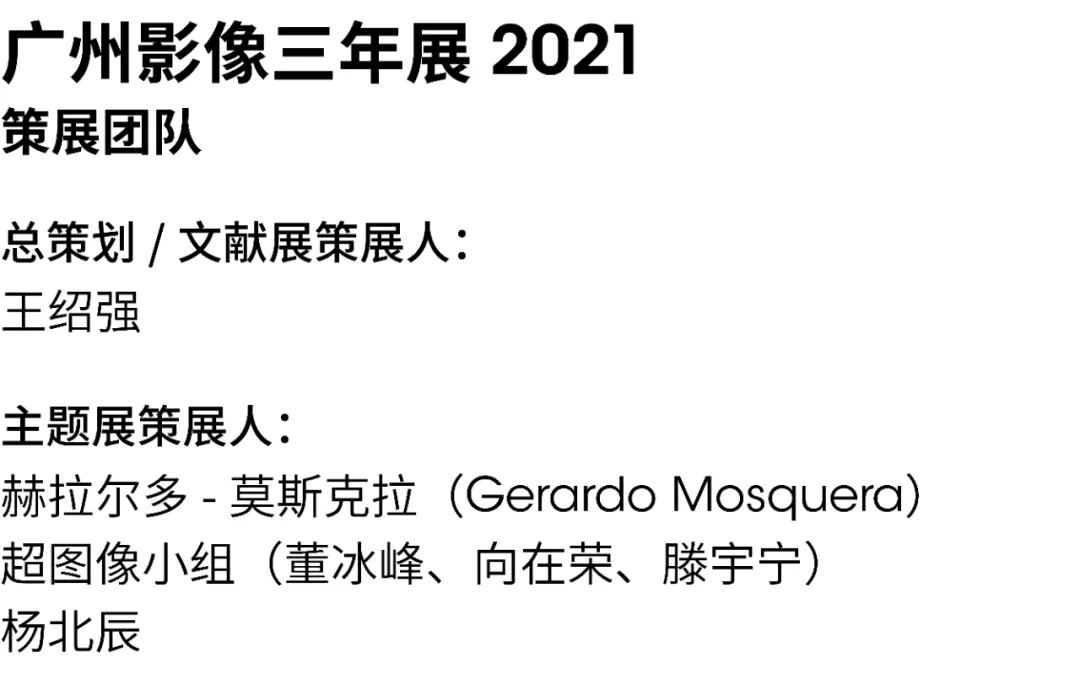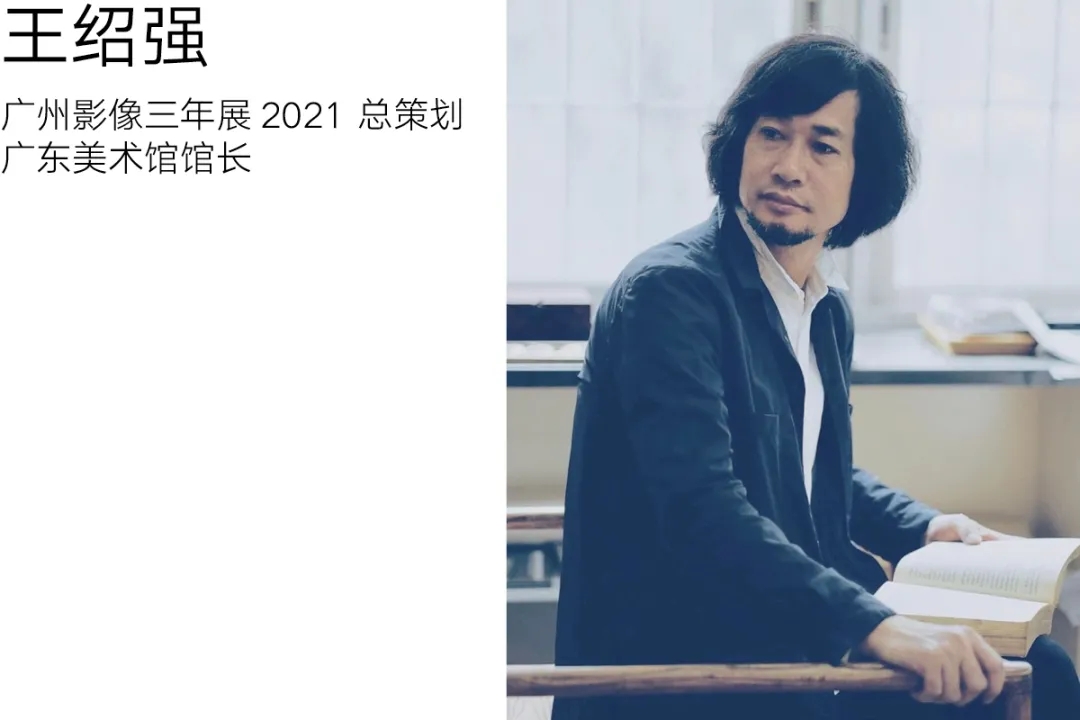 教授,博士生导师。现为广东美术馆馆长,中国美术家协会理事,中国美术家协会策展委员会委员,全国美术馆专业委员会委员、学术委员会委员,广东省美术家协会副主席,策展委员会主任,广东省美术馆协会常务副会长,广州美术学院教授、硕士生导师,澳门科技大学艺术学院教授、博士生导师,广州美术学院学术委员会委员,曾任广州美术学院视觉艺术学院院长。曾参与策划"其命惟新——广东百年美术大展"(2017年)。同时也是"复相·叠影——广州影像三年展2017"(2017年);"第六届广州三年展——诚如所思:加速的未来"(2018年)的总策划与文献展策展人,他还策划了品牌项目"7号空间广东美术馆青年艺术家学术提名展"等等具有影响力的大型展览和项目,以及"伟大的风格——王肇民艺术研究展"(2019年)、"铭刻时代——汤小铭艺术研究展"(2019年)、"图绘新中国——广东国画的改造与转型"(2019年)等一系列具有区域特色的近现代名家精品展。2013年被评为广州美术学院教学名师,2017年被评为广东省宣传思想文化领军人才,现生活工作于广州。

WANG Shaoqiang
Professor, Doctoral Advisor. Wang Shaoqiang has held positions as the Director of Guangdong Museum of Art; Director of Chinese Artist Association; Member of Curation Council of Chinese Artists Association; Member of Professional Committee and Academic Committee of National Art Museum of China; Deputy Chairman and Director of curation committee of Guangdong Artists Association; Executive Deputy Chairman of Guangdong Artists Association; Professor and Master's Supervisor of Guangzhou Academy of Fine Arts; Professor and Doctoral Advisor of Faculty of Humanities and Arts of Macao University of Science and Technology; Member of Academic Committee of Guangzhou Academy of Fine Arts; former Dean of School of Visual Arts of Guangzhou Academy of Fine Arts.
Wang Shaoqiang is the co-curator of Reform Mission: Guangdong Art Centennial Exhibition. He is also the cheif director and the curator of archive exhibition of Guangzhou Image Triennial 2017 and the 6th Guangzhou Triennial;and the curator of Space 7:Young Artists Academic Nomination Exhibition of Guangdong Art Museum; A Great Character - Research Exhibition of Wang Zhaomin's Art; Inscribe The Times-Art Research Exhibition of Tang Xiaoming; Painting New China-Renewal and Transformation of Guangdong Traditional Chinese Painting and so on. In 2013, he was awarded the Teacher of Teaching of Guangzhou Academy of Fine Arts. In 2017, he received the award of Leading Figure of Cultural Promotion and Communication of Guangdong Province. He now lives and works in Guangzhou.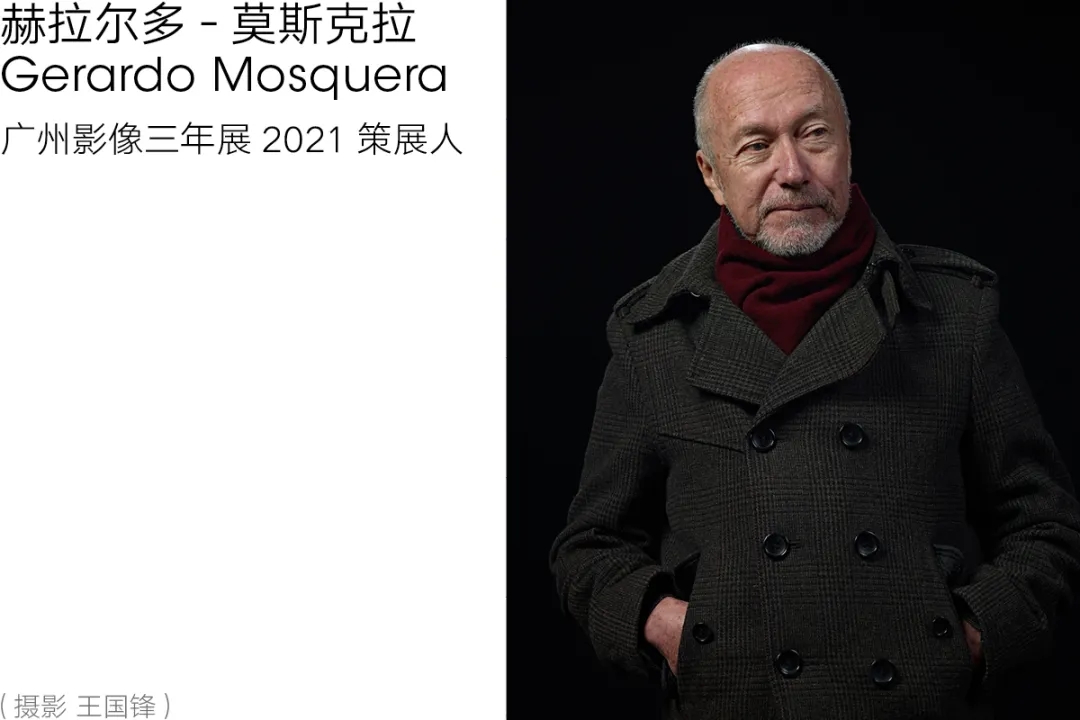 赫拉尔多-莫斯克拉(Gerardo Mosquera),自由撰稿人,评论家,艺术史学家和作家,现工作生活于哈瓦那和马德里,担任阿姆斯特丹国立美术馆以及其他国际艺术中心的顾问。他曾担任哈瓦那双年展(1984年-1989年)的联合创始人,纽约新当代艺术博物馆策展人(1995年-2009年)和马德里PHotoEspaña的艺术总监(2011年-2013年)等。他策划了许多国际性三双年展,近期项目有:"第21届佩兹双年展"(危地马拉,2018年);"第三届今日文献展"(北京,2016年);"第四届波多黎各圣胡安工艺/图像三年展"(2015年)。他最近的展览包括"无用之用",纽约布朗士美术馆(2019年);"再见乌托邦:1950以来的古巴艺术",休斯顿美术馆和沃克艺术中心(2017年)。他编著了大量有关当代艺术和艺术理论的书籍,他的下一本书《来自拉丁美洲的艺术(以及其他全球脉动)》将于2020年9月由马德里Ediciones Cátedra出版。同时,他也是多家国际杂志和期刊顾问委员,曾在五大洲演讲,并组织多次国际会议。在1990年获得纽约古根海姆奖。
Gerardo Mosquera

Gerardo Mosquera is a freelance curator, critic, art historian, and writer, based in Havana and Madrid. Advisor to the Rijksakademie van Beeldende Kunsten in Amsterdam, and other international art centers. He was co-founder of the Havana Biennial (1984-1989), Curator of the New Museum of Contemporary Art in New York (1995-2009), and Artistic Director of PHotoEspaña in Madrid (2011-2013), among other positions. He has curated many international "perennials"; most recent ones: 21st Paiz Biennial (2018,Guatemala); 3rd Today's Documents (2016,Beijing); 4th Poly/Graphic San Juan Triennial (2015). Among his most recent exhibitions are Useless: Machines for Thinking, Dreaming, and Seeing (The Bronx Museum of the Arts, New York, 2019) and Adiós Utopia: Dreams and Deceptions in Cuban Art Since 1950 (The Museum of Fine Arts of Houston, 2017)(The Walker Art Center, Minneapolis, 2017). Author and editor of numerous texts and books on contemporary art and art theory, his next book, Art from Latin America (and Other Global Pulses) will appear this September by Ediciones Cátedra, Madrid. He is a member of the advisory council of several international magazines and journals. He has lectured in five continents and has organized several international conferences. He received the Guggenheim Fellowship, New York, in 1990.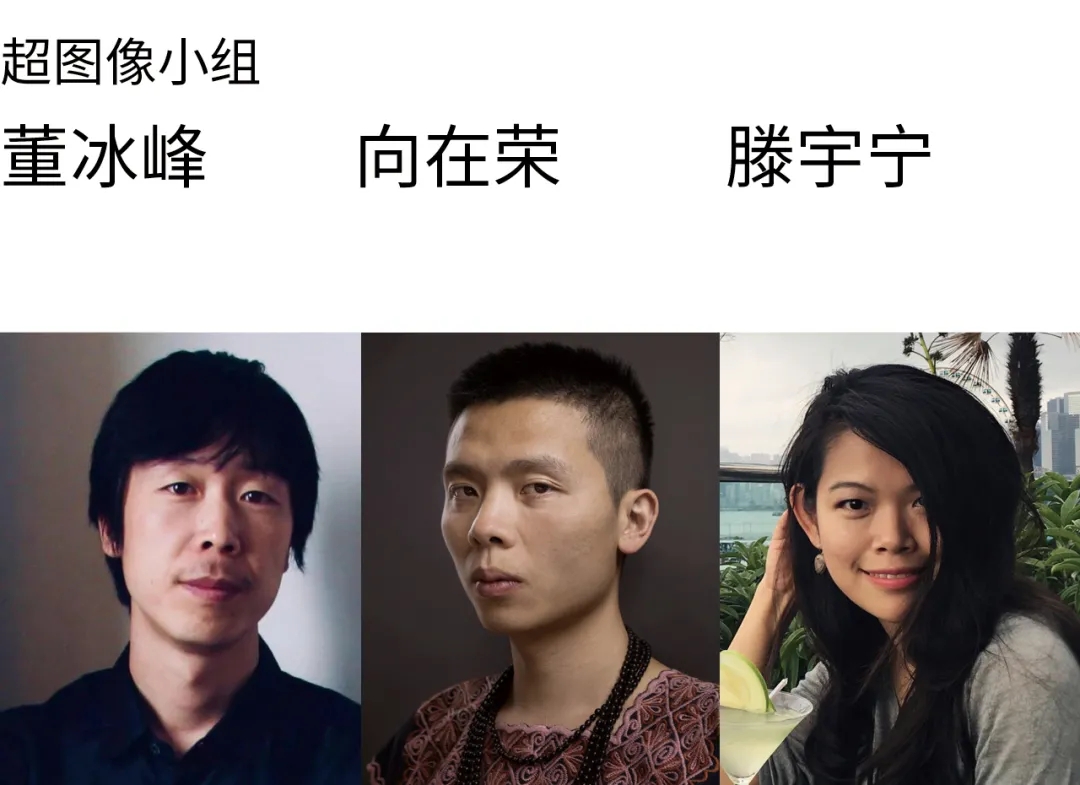 超图像小组(Hyperimage Group)组建于2018年,成员有董冰峰、向在荣、滕宇宁。三位小组成员来自不同的艺术实践与学术背景,涵盖策展、艺术史、图像学、电影,哲学、宗教等跨学科跨文化研究领域。小组旨在反思当下图像景观与图像研究,即超越图像形式本身、超越传统艺术史学科界定、超越图像与精神活动与现实社会的限制,从而对图像在今天社会、思想、文化中的作用进行读解和运用。
Hyperimage Group was founded in 2018 with three members (Dong Bingfeng, Xiang Zairong, Teng Yuning) from different artistic and academic backgrounds that range from curation, art history, iconology, film studies, philosophy, religious studies and other interdisciplinary areas of inquiry. The aim of the group is to critically assess the current landscape of image research, move beyond image itself - the object of study in the traditional discipline of art history. By moving beyond the limits of social reality in which the practices and research of image are situated, the group investigates and invests in the application and interpretation of image through today's society, intellectual history, and culture.

董冰峰
现为中国美院跨媒体艺术学院研究员。曾先后担任广东美术馆与尤伦斯当代艺术中心策展人、伊比利亚当代艺术中心副馆长、栗宪庭电影基金艺术总监、北京OCAT研究中心学术总监。获"CCAA中国当代艺术评论奖"(2013年)、"《YISHU》中国当代艺术评论奖"(2015年)和亚洲艺术文献库"何鸿毅家族基金中华研究驻留奖"(2017年)。
DONG Bingfeng

Dong Bingfeng is a curator and producer based in Beijing. He is a research fellow in the School of Inter-media Art, China Academy of Art. Since 2005, Dong has worked as a curator in Guangdong Museum of Art and Ullens Center for Contemporary Art, Deputy Director of Iberia Center for Contemporary Art, Art Director of Li Xianting's Film Fund, and Academic Director of OCAT Institute. In 2013, Dong was awarded the CCAA Chinese Contemporary Art Critic Award. In 2015, he was awarded the Chinese Contemporary Art Critic Award of Yishu: Journal of Contemporary Chinese Art. In 2017, he was awarded the Robert H. N. Ho Family Foundation Greater China Research Grant.
向在荣

向在荣博士是昆山杜克大学比较文学助理教授及艺术副主任。他曾分别在柏林文化研究院 ICI Berlin、波茨坦大学德意志科学研究联合会DFG"小世界主义"担任研究员。写有专著《古怪之道:一种去殖民探究》(punctum books 2018年)(中译:泼先生实验室5号项目)。他是柏林世界文化宫HKW"小世界主义周末"的总策展人,并编辑出版了活动画册(Diaphanes/芝大出版社,2020年)。目前他专注于对"跨二元论"及"山寨"这两个概念在全球南方特别是拉美及中国框架下的研究。
XIANG Zairong

Dr. Xiang Zairong is Assistant Professor of Comparative Literature and Associate Director of Art at Duke Kunshan University. He was Research Fellow at ICI-Berlin Institute for Cultural Inquiry, and postdoctoral research fellow at Potsdam University with the DFG Research Training Group minor cosmopolitanisms. He is author of the book Queer Ancient Way: A Decolonial Exploration (punctum books, 2018). He curated "minor cosmopolitan weekend" at the HKW Haus der Kulturen der Welt (2018) and edited its catalogue minor cosmopolitan: Thinking Art, Politics, and the Universe Together Otherwise (Diaphanes/Chicago University Press, 2020). He is working on two projects, respectively dealing with the concepts of "transdualism" and "counterfeit" in the global south, especially in the context of China and Latin America.
滕宇宁

北京大学视觉与图像研究中心副主任,德国汉堡大学艺术史博士候选人,国际艺术批评家学会(AICA)会员。曾担任中国现代艺术档案与《中国当代艺术年鉴》总监、"中国当代艺术年鉴展"连续四届执行策展人(2015年-2018年)、第34届世界艺术史大会中方学术总秘书。个人学术方向为政治图像学、中国城市景观和当代艺术。
TENG Yuning

Deputy Director at Centre for Visual Studies of Peking University (CVS). PhD Candidate in Art History at the University of Hamburg, Germany. Member of the International Association of Art Critics (AICA). As the deputy director of CVS, her major academic responsibility is managing the Chinese Modern Art Archive (CMAA) and editing the Annual of Contemporary Art of China. She worked four years as the executive curator of Exhibition of Annual of Contemporary Art of China from 2015 to 2018. Her major field of research is on political iconography, Chinese urban landscape and contemporary art.
杨北辰,博士,策展人,当代艺术与影像研究者。他目前是普拉达基金会"思想委员会"成员,并担任新世纪当代艺术基金会特约研究员与《艺术论坛》中文网特约编辑。现任教于中央戏剧学院,他的研究兴趣侧重于当代运动影像理论、媒体考古学、技术&生态与新物质主义领域。其策展实践与跨领域的学术方向相辅相成,曾策划过的项目包括"新冶金者"(尤利娅·斯托舍克基金会,杜塞尔多夫)、"在地宇宙"(乔空间,上海)、"反投影:中国早期录像艺术中的媒体雕塑"(新世纪当代艺术基金会,北京)、"微纪元"(国家画廊,柏林)、"具身之镜:中国录像艺术中的行为与表演"(新世纪当代艺术基金会,北京)等。他亦曾为艺术家曹斐、奥玛·法斯特、劳拉·普罗沃斯特、何子彦等艺术家撰写过展览图录文章;由其主编的出版物《HX》近期于曹斐伦敦蛇形画廊个展期间面世。他的个人学术专著《作为档案的电影》即将付梓。
YANG Beichen

Dr. Yang Beichen is a curator/scholar of film and contemporary art. He is currently a member of the Thought Council at the Fondazione Prada (Milan, Venice), also a guest researcher at the New Century Art Foundation (Beijing, Shanghai) and contributing editor of Artforum China. He lectures on film and media art at The Central Academy of Drama (Beijing), with research interests on the theory of Moving Image, Media Archaeology, Technology & Ecology, and New Materialism. His curatorial practices corresponds with his multidisciplinary academic approaches, including New Metallurgists" (Julia Stoschek Collection, Düsseldorf), Earthbound Cosmology (Qiao Space, Shanghai), Anti-Projection (NCAF, Beijing), Micro-Era (Nationalgalerie, Berlin), Embodied Mirror (NCAF,Beijing). He has contributed critical essays for the catalogues of the artists such as CAO Fei, Laure Prouvost, Omer Fast and HO Tzu Nyen, etc.. HX, a publication edited by him, is recently launched during CAO Fei's solo exhibition at the Serpentine Galleries. His academic monograph Film as Archive will be published soon.

"广州影像三年展"的前身为广东美术馆主办的"广州国际摄影双年展","广州国际摄影双年展"是国内具有代表性的大型国际性摄影双年展之一,基本宗旨是"坚持国际化的视野和影像社会学的人文立场,参与和推动中国的当代摄影及文化的发展"。回顾过往的三届摄影双年展(2005年,2007年,2009年),每届确立一个主题学术面向各有所侧重,严谨地梳理摄影史,展现当代摄影实践;同时激活了国内美术馆对于摄影研究和收藏的热情。
广东美术馆于2016年重启"广州国际摄影双年展"这一品牌项目,并将"广州国际摄影双年展"正式更名为"广州影像三年展"。"影像"包含图像、声音、运动与三维动画等多种元素,作为新艺术媒介的一部分,更能够囊括各种跨媒介艺术实践现象。广东美术馆基于媒介现象发展的观察与思考,把研究的重点从原来的"社会人文的摄影"拓展为更具包容力和学科性的"视觉研究的影像",力图在更具开放性与方向感的工作中推动中国当代影像艺术的实践与研究。2017年,广东美术馆成功举办了"复相·叠影——广州影像三年展2017"。
The predecessor of Guangzhou Image Triennial is Guangzhou Photo Biennial hosted by Guangdong Museum of Art. Guangzhou Photo Biennial is one of the most representative large-scale international photo biennials in China that holds the principle of "Adhere to the global vision and the humanistic standpoint of imaging sociology; participate in and promote the development of contemporary photography and culture in China." Looking back at the past Guangzhou Photo Biennial in 2005, 2007 and 2009, each edition established a distinctive theme, focuses on a specific academic field, rigorously combing the history of photography, while showing contemporary photography practices. More importantly, the biennials activated the domesticart museums' passion for photography research and collections.
Guangdong Museum of Art relaunch the brand project Guangzhou Photo Biennial and renamed as Guangzhou Image Triennial in 2016. The broader concept "IMAGE" is composed of multiple elements, including pictures, sound, motion, and 3D animation. As a part of the new art media, "IMAGE" can also include various cross-mediaart practice phenomena. Based on close observation and thinking of media development, Guangdong Museum of Art shifted the focus of research from "social and humanistic photography" to a more inclusive and academical "images for visual research". It strives to promote the practices and study of Chinese contemporary image art through more open and targeted works. In 2017, Guangdong Museum of Art successfully held Simultaneous Eidos: Guangzhou Image Triennial 2017.
【声明】以上内容只代表原作者个人观点,不代表artda.cn艺术档案网的立场和价值判断。