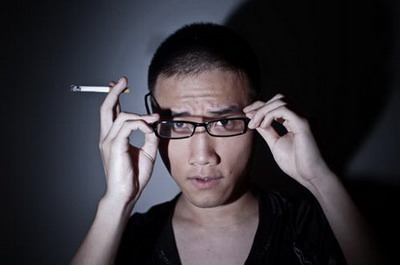 鄢醒(Yan Xing)
简历
鄢醒,1986年出生于重庆
2008年建立并加入公司/COMPANY
现工作、生活于北京

教育
2009年毕业于四川美术学院油画系,获学士学位,重庆

获奖
2012 "最佳年轻艺术家",中国当代艺术奖(CCAA),北京
2012 入围"未来世代艺术奖",维克多·平丘克基金会,乌克兰基辅
2012 入围"关注未来艺术英才计划",今日美术馆,北京,马爹利艺术基金

个展
2012 鄢醒,华人艺术中心,英国曼切斯特
2011"现实主义",麦勒画廊 北京-卢森,北京

部分群展
2013
"艺术无限",巴塞尔艺术展,巴塞尔博览馆,瑞士巴塞尔
"未来世代艺术奖",第55届威尼斯双年展平行展, Contarini Polignac宫殿,意大利威尼斯
"中国中国",平丘克艺术中心,乌克兰基辅
"来自四川美术学院油画系20年的实验与实践",苏州美术馆,江苏苏州
"ON|OFF:中国年轻艺术家的观念与实践",尤伦斯当代艺术中心(UCCA),北京

2012
"艺术私房",迈阿密海滩巴塞尔艺术展,迈阿密海滩会议中心,美国迈阿密
"未完成的国度:来自中国的新录像",休斯敦当代美术馆,美国休斯敦
"未来世代艺术奖"入围展,平丘克艺术中心,乌克兰基辅
"首届CAFAM未来展",中央美术学院美术馆,北京
"2012青年艺术家实验季第二回", A4当代艺术中心,四川成都
"第三届莫斯科青年艺术双年展",中央艺术之家,俄罗斯莫斯科
"亚洲当代艺术联合会特别项目",artMRKT,Concourse展览中心,美国旧金山
"第七届深圳雕塑双年展",OCT当代艺术中心(OCAT),广东深圳
"关注未来艺术英才计划"入围展,今日美术馆,北京
"不可触摸",Saamlung画廊,香港
"症候",伊比利亚当代艺术中心,北京
"真相部——国际群展",Boers-Li画廊,北京

2011
"有些事情一定会发生",K11艺术中心,湖北武汉
"XXX——下一个十年的当代艺术",今日美术馆,北京
"肉体"国际录像艺术展,印度尼西亚国家美术馆,印度尼西亚雅加达
"事实研习中心",扬子江论坛,湖北武汉
"小运动——当代艺术中的自我实践",OCT当代艺术中心(OCAT),广东深圳
"完美世界",Meulensteen画廊,美国纽约
"你不是个小玩意儿",艺门画廊,北京

2010
"哑剧",艺术通道,北京
"亚洲新锐艺术家",艺术光州,金大中会展中心,韩国光州
"一个计划——无可告知",站台中国当代艺术机构,北京
"解放——及其相对的意义",华人艺术中心,英国曼切斯特
"天涯"介入项目,北京

2009
"证伪"全国美术院校油画专业应届毕业生优秀作品展,何香凝美术馆,广东深圳

2007
"移梦场"当代艺术展,四川美术学院,重庆

美术馆与公共收藏
鲁贝尔家族收藏,美国迈阿密
M+视觉文化博物馆,香港
卡蒂斯特艺术基金会,法国巴黎
何香凝美术馆,广东深圳
BIOGRAPHY

YAN XING
1986 Born in Chongqing, China
2008 founder and member of COMPANY
Currently lives and works in Beijing

EDUCATION
2009 Graduated from Sichuan Fine Arts Institute, Oil Painting Department with BFA, Chongqing, China

AWARDS
Best Young Artist Award, 2012 Chinese Contemporary Art Award (CCAA), Beijing, China
Finalist, 2012 Future Generation Art Prize, Victor Pinchuk Foundation, Kiev, Ukraine
Finalist, 2012 Focus on Talents Project, Today Art Museum, Beijing, China. Martell Art Fund.

SOLO EXHIBITIONS
2012
YAN XING, Chinese Arts Centre, Manchester, UK

2011
REALISM, Galerie Urs Meile, Beijing-Lucerne, Beijing, China

SELECTED GROUP EXHIBITIONS
2013
Art Unlimited - Art Basel, Messe Basel, Messeplatz, Basel, Switzerland
Future Generation Art Prize, Collateral Event of the 55th Venice Biennale, Palazzo Contarini Polignac, Venice, Italy
China China, PinchukArtCentre, Kiev, Ukraine
The Experimental Practices from the Oil Painting Department of Sichuan Fine Arts Institute, Suzhou Art Museum, Suzhou, China
ON|OFF: China's Young Artists in Concept and Practice, Ullens Center for Contemporary Art (UCCA), Beijing, China

2012
Art Kabinett - Art Basel Miami Beach, Miami Beach Convention Center, Miami, USA
Unfinished Country: New Video from China, Contemporary Arts Museum Houston (CAMH), Houston, USA
Future Generation Art Prize - Finalists Exhibition, PinchukArtCentre, Kiev, Ukraine
1st CAFAM Future, China Central Academy of Fine Arts Museum (CAFAM), Beijing, China
2nd Round Exhibition of Young Artist Experimental Season, A4 Contemporary Arts Center, Chengdu, China
The III Moscow International Biennale for Young Art, Central House of Artists (CHA), Moscow, Russia
Asian Contemporary Arts Consortium (ACAC-SF) - artMRKT, Concourse Exhibition Center, San Francisco, USA
The Seventh Shenzhen Sculpture Biennale, OCT Contemporary Art Terminal (OCAT), Shenzhen, China
Focus on Talents Project - Finalists Exhibition, Today Art Museum, Beijing, China
The Untouchables, Saamlung Gallery, Hong Kong
Symptoms, Iberia Center for Contemporary Art, Beijing, China
Ministry of Truth - International Group Exhibition, Boers-Li Gallery, Beijing, China

2011
Something Will Inevitably Happen, K11 Art Space, Wuhan, China
XXX - Next 10 years of Contemporary Art CHINA, Today Art Museum, Beijing, China
FLESH - International Video Festival, National Gallery of Indonesia, Jakarta, Indonesia
Fact Study Institute, Yangtze River Space, Wuhan, China
Little Movements: Self-practice in Contemporary Art, OCT Contemporary Art Terminal (OCAT), Shenzhen, China
In A Perfect World..., Meulensteen Gallery, New York, USA
You Are Not A Gadget, Pékin Fine Arts, Beijing, China

2010
Mummery, Art Channel, Beijing, China
Emerging Asian Artists - Art Gwangju, KDJ Convention Center, Gwangju, South Korea
A Project - Incommunicable, Platform China Contemporary Art Institute, Beijing, China
Liberation - and its relative meaning, Chinese Arts Centre, Manchester, UK
Anywhere, intrude project, Beijing, China

2009
Falsification - Annual Exhibition of Dissertation Works in Painting from National Art Academies Across China, He Xiangning Art Museum, Shenzhen, China

2007
Dream Plant Contemporary Art Exhibition, Sichuan Fine Arts Institute, Chongqing, China

MUSEUM AND PUBLIC COLLECTIONS
Rubell Family Collection, Miami, USA
M+ Museum for Visual Culture, Hong Kong
Kadist Art Foundation, Paris, France
He Xiangning Art Museum, Shenzhen, China
鄢醒1986年出生于重庆,2009年毕业于四川美术学院油画系,获学士学位,现居北京。他是"公司"项目的发起人与参与者。他的作品曾在英国曼切斯特华人艺术中心、印度尼西亚国家美术馆、中国北京伊比利亚当代艺术中心、今日美术馆、深圳何香凝美术馆、OCT当代艺术中心(OCAT) 等机构展出。他也曾参加过莫斯科青年艺术双年展、深圳雕塑双年展等国际双年展。鄢醒的创作媒材甚为宽广,涉及了行为、录像、装置、绘画等多个领域。他曾于中国北京麦勒画廊举办个展,也曾参与美国纽约Meulensteen画廊、中国北京Boers-Li画廊、艺门画廊、站台中国当代艺术机构的重要群展。鄢醒曾发起和策划过"移梦场"当代艺术展、"哑剧"年轻艺术家群展、"事实研习中心"等展览项目。
YAN XING
Born in Chongqing in 1986, Yan Xing graduated from the Oil Painting Department of Sichuan Fine Arts Institute in 2009 with a bachelor degree. Yan Xing currently lives and works in Beijing. He is both the initiator and participant of the "COMPANY" project. His works have been shown at institutions such as: Contemporary Arts Museum Houston (CAMH), Houston, USA; Central House of Artists (CHA), Moscow, Russia; PinchukArtCentre, Kiev, Ukraine; National Gallery of Indonesia, Jakarta, Indonesia; Ullens Center for Contemporary Art (UCCA), Beijing, China; China Central Academy of Fine Arts Museum (CAFAM), Beijing, China; Iberia Center for Contemporary Art, Beijing, China; Today Art Museum, Beijing, China; OCT Contemporary Art Terminal (OCAT), Shenzhen, China and the A4 Contemporary Arts Center, Chengdu, China. He has also been featured at Moscow International Biennale for Young Art (2012), Shenzhen Sculpture Biennale (2012).
Yan Xing's works involve an extremely broad range of creative media, including performance, video, installation and painting, among others. The solo exhibitions of his works were held at Chinese Arts Centre, Manchester, UK (2012); Galerie Urs Meile, Beijing-Lucerne, Beijing, China (2011), and his works have also been shown in important group exhibitions such as: Meulensteen Gallery, New York, USA; Boers-Li Gallery, Beijing, China; Pékin Fine Arts, Beijing, China; and Platform China Contemporary Art Institute, Beijing, China.
Yan Xing's works have been public collections include: Rubell Family Collection, Miami, USA; M+ Museum for Visual Culture, Hong Kong; Kadist Art Foundation, Paris, France; He Xiangning Art Museum, Shenzhen, China. In 2012 he won the Best Young Artist Award by CCAA (Chinese Contemporary Art Award). The same year, he was a finalist in the "Future Generation Art Prize", Victor Pinchuk Foundation, Kiev, Ukraine; "Focus on Talents Project 2012", Today Art Museum, Beijing, China, Martell Art Fund. Yan Xing has created and planned exhibitions such as: Dream Plant contemporary art exhibition, Sichuan Fine Arts Institute, Chongqing, China; Mummery, Art Channel, Beijing, China; and the Fact Study Institute, Yangtze River Space, Wuhan, China.
艺术家作品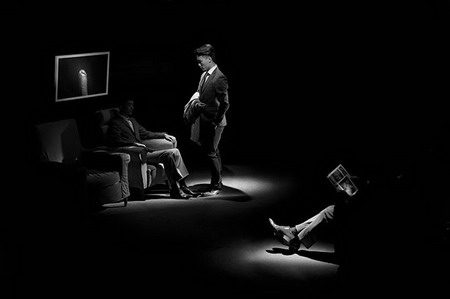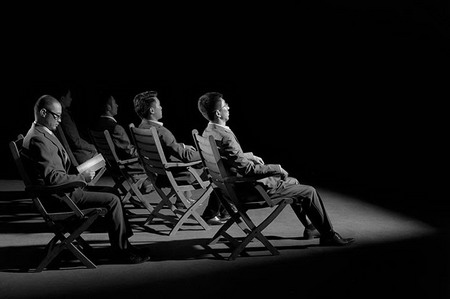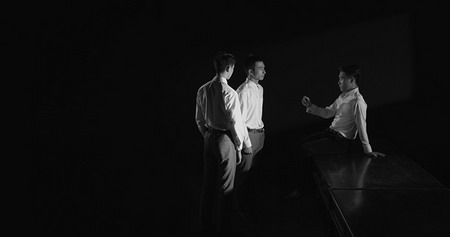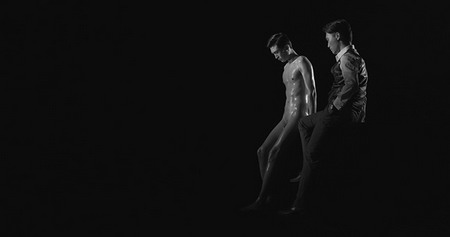 Arty, Super-Arty/艺术、太艺术的
2013, single channel HD video (b/w, silent), 9 min 16 sec
film still
2013/单频高清录像(黑白,无声)/9分16秒
截帧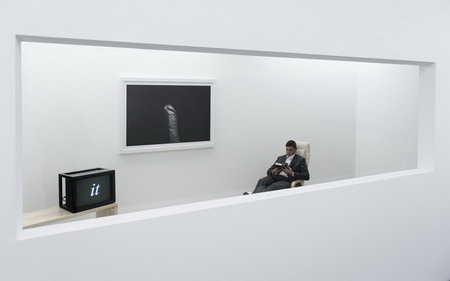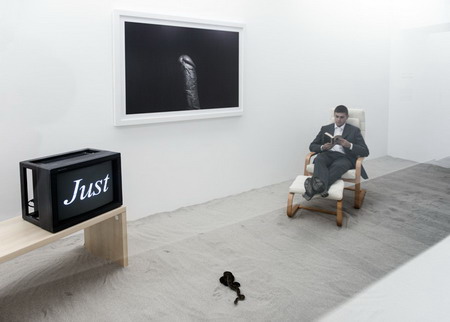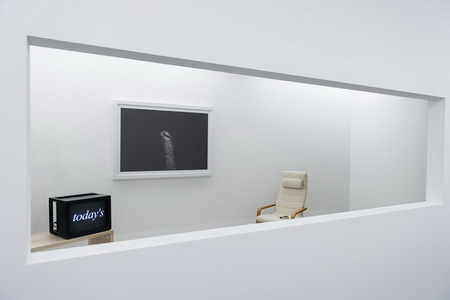 Modernist, Super-Modernist/现代、更现代的
2012, sand, bench, single channel digital video (b/w, silent), 21-inch monitor, snake, photography, Armchair and footstool, actors, voice, dimensions variable
Future Generation Art Prize - Finalists Exhibition, exhibition view, 2012, PinchukArtCentre, Kiev, Ukraine
Photo by Sergey Illin, Courtesy the PinchukArtCentre
2012/沙,长凳,单通道数字录像(黑白,无声),21寸监视器录像装置,蛇,摄影,扶手椅与脚凳,演员,声音/尺寸可变
"'未来世代艺术奖'入围展"展览现场/2012/平丘克艺术中心,乌克兰基辅
图片由Sergey Illin拍摄,平丘克艺术中心惠允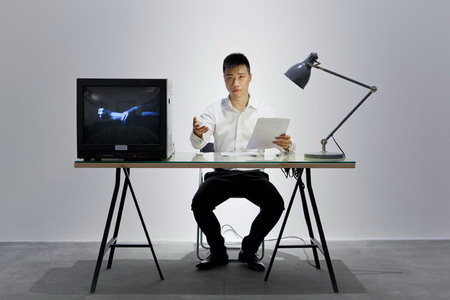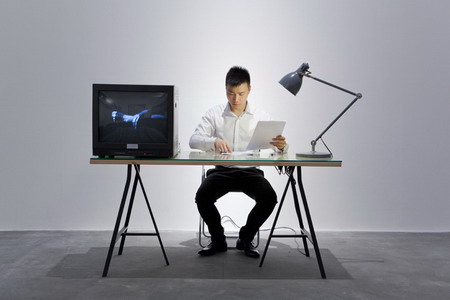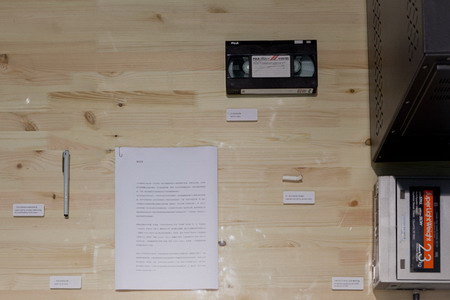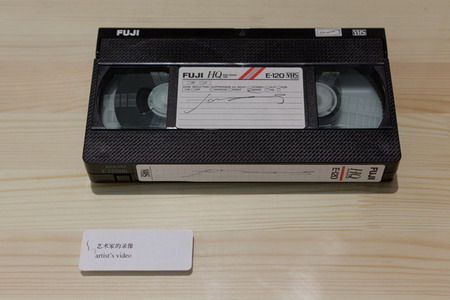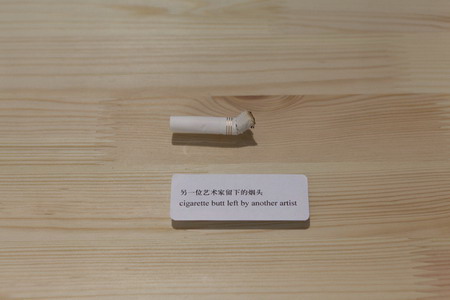 THE HISTORY OF RECEPTION /接受史
The History of Reception/接受史
2012, performance, video installation (VHS cassette, 17-inch monitor, Panasonic AG-6400 portable video cassette recorder, script
papers, pen, cigarette butt, labels, table lamp, glass pane, work table, folding chair) , dimensions variable
The Seventh Shenzhen Sculpture Biennale - Accidental Message: Art is not a System, not a World, exhibition view, 2012, OCT
Contemporary Art Terminal (OCAT), Shenzhen, China
2012/行为,录像装置(VHS磁带,17英寸监视器,松下AG-6400磁带录像机,文稿,笔,烟头,标签,玻璃表面,工作台,折叠椅)/尺寸可变
"第七届深圳雕塑双年展——偶然的信息:艺术不是一个体系,也不是一个世界"展览现场/2012/OCT当代艺术中心(OCAT),广东深圳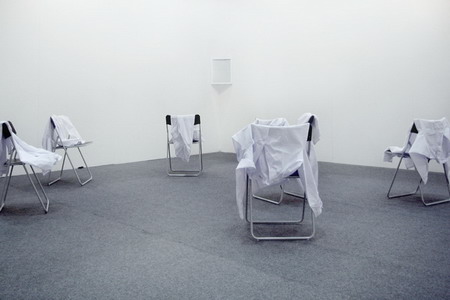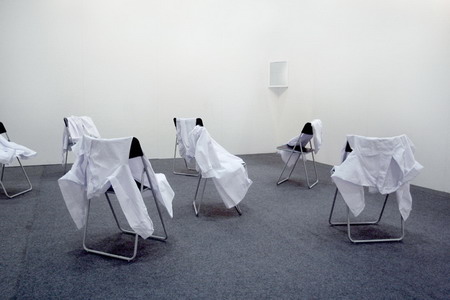 He Has To Die/他必须死
2010, male doctor's overall, acryl frame surface, chairs, dimensions variable
Emerging Asian Artists - Art Gwangju 2010, exhibition view, 2010, KDJ Convention Center, Gwangju, South Korea
2010/男医师服,压克力镜面,凳子/尺寸可变
"亚洲新锐艺术家──艺术光州2010"展览现场/2010/金大中会展中心,韩国光州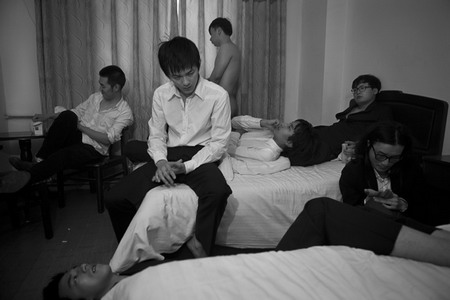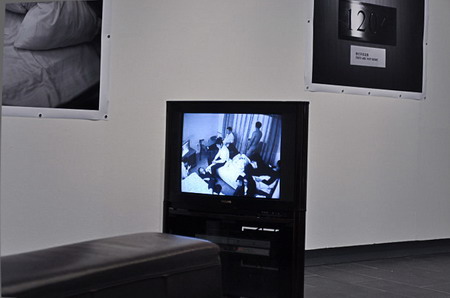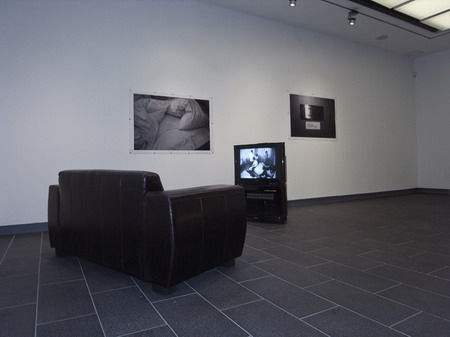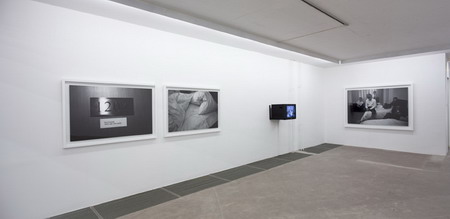 They Are Not Here/他们不在这里
2010, performance, video installation, photography, dimensions variable
photography
2010, black and white digital print, 120 × 180 cm
2010/行为,录像装置,摄影/尺寸可变
摄影
2010/黑白数码微喷/120×180厘米